You are here
Back to top
Arms of Nemesis: A Novel of Ancient Rome (Novels of Ancient Rome #2) (Paperback)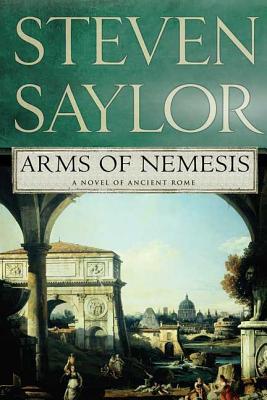 $19.99

Usually Ships in 1-5 Days
Description
---
The hideously disfigured body was found in the atrium. The only clues are a blood-soaked cloak, and, carved into the stone at the corpse's feet, the word Sparta. The murdered man was the overseer of Marcus Crassus's estate, apparently killed by two runaway slaves bent on joining Spartacus's revolt. In response to the murder, the wealthy, powerful Crassus vows to honor an ancient law and kill his ninety-nine remaining slaves in three days. Now Gordianus the Finder has been summoned from Rome by a mysterious client to find out the truth about the murder before the three days are up.

Enmeshed in a world of desperate slaves and duplicitous masters, extravagant feasts and sordid secrets, Gordianus must risk all he loves, including his life, to stop a senseless slaughter-and save the very future of Rome itself.
About the Author
---
Steven Saylor is the author of the long running Roma Sub Rosa series featuring Gordianus the Finder, as well as the New York Times bestselling novel, Roma and its follow-up, Empire. He has appeared as an on-air expert on Roman history and life on The History Channel. Saylor was born in Texas and graduated with high honors from The University of Texas at Austin, where he studied history and classics. He divides his time between Berkeley, California, and Austin, Texas.
Praise For…
---
"Saylor impeccably recreates life in Imperial Rome…and intriguing mix of historical accuracy and tense drama." —St. Louis Post-Dispatch on Arms of Nemesis

"Gordinaus has wisdom and prudence; Saylor has intelligence, wit, and insight. Saylor has aquired the information of a historian but he enjoys the gifts of a born novelist." —The Boston Globe on A Murder on the Appian Way

"A compulsively entertaining whodunnit." —New York Times Book Review on Arms of Nemesis