You are here
Back to top
Throne of Glass (Paperback)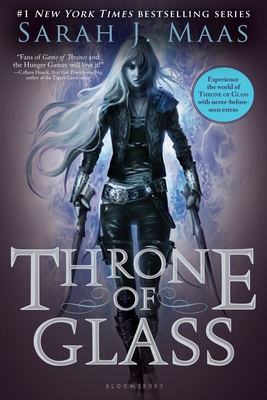 $11.99
Usually Ships in 1-5 Days
Description
---
In a land without magic, where the king rules with an iron hand, an assassin is summoned to the castle. She comes not to kill the king, but to win her freedom. If she defeats twenty-three killers, thieves, and warriors in a competition, she is released from prison to serve as the king's champion. Her name is Celaena Sardothien.
The Crown Prince will provoke her. The Captain of the Guard will protect her. But something evil dwells in the castle of glass--and it's there to kill. When her competitors start dying one by one, Celaena's fight for freedom becomes a fight for survival, and a desperate quest to root out the evil before it destroys her world.
About the Author
---
Throne of Glass was Sarah J. Maas's first full-length novel to be published, though she already had a large online fan base, many of whom discovered this fantasy world in its first incarnation on www.fictionpress.com, written when Sarah was just sixteen. Throne of Glass was shortlisted for the Waterstones Children's Teen Book of the Year and has sold in thirteen languages. Sarah lives in Southern California, USA.
You can find out more about Sarah and Throne of Glass at www.sjmaas.livejournal.com.
Praise For…
---
"Readers seeking the political intrigue of Kristen Cashore's Graceling and its sequels or the deadly competition at the heart of The Hunger Games will find both in Maas's strong debut novel. . . . The verve and freshness of the narration make for a thrilling read." —Publishers Weekly, starred review
"A teenage assassin, a rebel princess, menacing gargoyles, supernatural portals and a glass castle prove to be as thrilling as they sound. . . . Celaena is still just a teenager trying to forge her way, giving the story timelessness. This commingling of comedy, brutality and fantasy evokes a rich alternate universe with a spitfire young woman as its brightest star." —Kirkus Reviews
"Throne of Glass by Sarah J. Maas is a tale full of surprises and shadows, where deadly seeds are sown with the promise of more danger to come. A fascinating glimpse into the dark side of Cinderella." —Colleen Houck, the NYT Bestselling author of the Tiger's Curse series