You are here
Back to top
Raising Boys with ADHD: Secrets for Parenting Healthy, Happy Sons (Paperback)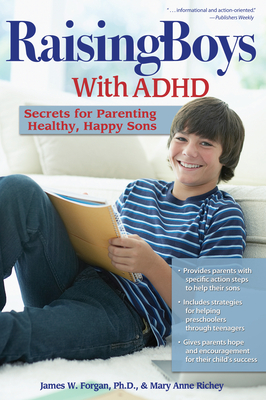 This book is unavailable to order.
Description
---
Written by two professionals who have been there and done that with their own sons with ADHD, Raising Boys With ADHD empowers parents to help their sons with ADHD find success in school and beyond. The book covers topics not often found in other parenting guides such as the preschool years and early diagnosis and strategies for teens transitioning to work and college. Filled with practical knowledge, resources, and tools needed to help parents address the many strengths and challenges of boys with ADHD, this book provides parents with encouragement and hope for the future.
About the Author
---
Jim Forgan, Ph.D., is an associate professor and Licensed School Psychologist. He teaches others how to teach and assess children with ADHD and other types of learning disabilities at Florida Atlantic University in Jupiter, FL. In private practice, he works with families of children with ADHD and other learning differences. Jim consults with public and private schools doing workshops on ADHD, dyslexia, problem solving, and accommodations for learning disabilities. He is also the parent of a young son with ADHD.Mary Anne Richey, M.Ed., is a licensed school psychologist with degrees from Virginia Tech and Florida Atlantic University. In 2012, she was named Florida School Psychologist of the Year. She worked for the school district of Palm Beach County and now maintains a private practice.