You are here
Back to top
DIY Chicken Coops: 12 Chicken Coop Plans That Will Teach You How To Build a Dream Chicken Coop: (Keeping Chickens, Raising Chickens For D (Paperback)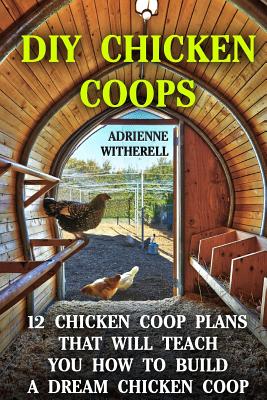 $8.95

Usually Ships in 1-5 Days
(Sales for this book are final. This book cannot be returned.)
Description
---
Getting Your FREE Bonus
Download this book, read it to the end and see "BONUS: Your FREE Gift" chapter after the conclusion.
DIY Chicken Coops (FREE Bonus Included) 12 Chicken Coop Plans That Will Teach You How To Build A Dream Chicken Coop
Your grandparents have chickens, their parents have chickens, your parents may also have chickens. Whatever your experience is with chickens, odds are you grew up with someone who had them, or you know someone who does.
Chickens are an animal that is growing in popularity. They have always been a staple in America, but in the recent times, more and more people are recognizing that they are great ways to be self-sufficient, and they are great at helping you save money.
All of these facts are likely driving you to get your own flock of chickens, and raise them yourself. But it doesn't take long in this endeavor before you hit a very important problem... what to put them in.
Chickens are different than dogs and cats, they need a little more hands on TLC than either of those animals, and they are pickier about their housing situation, especially if you are going to be using your flock to get eggs.
That is where this book comes in, teaching you how to build 12 different coops that are sure to suit your needs and make your new ladies happy, and keep them safe. All of these coops are easy to build, inexpensive, and perfect for any flock of hens that you would like to have.
It doesn't matter how good you are with building things, this book is going to help you get what you want, and help you grow that flock you are dreaming of. Each and every one of these coops are:
Safe
Easy to build
Secure
Cozy for your hens
Roomy enough for 12 to 15 hens
And will fit almost anywhere you want it to
Download your E book "DIY Chicken Coops: 12 Chicken Coop Plans That Will Teach You How To Build A Dream Chicken Coop" by scrolling up and clicking "Buy Now with 1-Click" button.