You are here
Back to top
Laugh Lines: My Life Helping Funny People Be Funnier (Hardcover)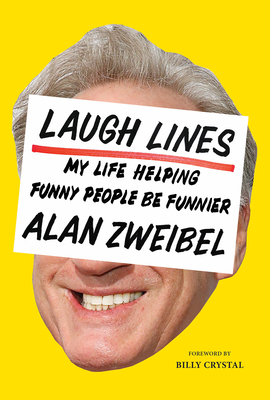 $27.00
Usually Ships in 1-5 Days
About the Author
---
Alan Zweibel is an original Saturday Night Live writer who has won multiple Emmy and Writers Guild of America awards for his work in televi-ion. He also collaborated with Billy Crystal on the Tony Award–winning Broadway play 700 Sundays and won the Thurber Prize for American Humor for his novel The Other Shulman.
Praise For…
---
"I interviewed Alan for my high school radio station when I was sixteen and have been hungry for comedy and life insights from him ever since! Finally, I have the Zweibel bible!"
— Judd Apatow
"Alan Zweibel will tell you everything you need to know about comedy writing. Actually, he might tell you too much, but it's hilarious and worth it. Alan has candid and heartwarming stories about all of the greats, but in some ways, he buries the lead. He's one of them."
— Mike Birbiglia
"Alan Zweibel is legendary among us comedians. He is the man who delivers comedy with an emotional clout that makes him respected and revered."
— Steve Martin
"I love this book! And it's not just because Alan says nice things about me. Well, maybe it is."
— Larry David
"I have read the complete works of Tolstoy, Dostoevsky, Flaubert, and Melville. Trust me, Alan Zweibel is MUCH funnier."
— Dave Barry
"A brilliant book by a brilliant man. I can't wait to reread it with the TV off."
— Martin Short
"Alan Zweibel is the original man behind the man! I don't have enough fingers to count how many people would not be where they are without Alan Zweibel. (I only have four fingers, but still . . .)"
— Sarah Silverman
"Any comedy fan will thrill to see the contemporary art's invention through the eyes of consummate funny man Alan Zweibel. He takes you behind the velvet rope and makes you weep for all those artists who made us laugh. Screamingly funny--also very moving. A classic."
— Mary Karr
"Laugh Lines reminds me of the many long, leisurely lunches I've had with Alan –– filled with laughter, great stories and humanity. He's a completely delicious original!"
— Susie Essman
"An amiable, big-lug, heart-of-gold sort of book . . . A pleasant, amusing tale of a life in jokes, suitable for budding comedians and students of the form."
— Kirkus Reviews
"This zippy memoir by comedians' comedian Zweibel offers laughs on nearly every page . . . hilarious and self-deprecating."
— Publishers Weekly
"Readers will find plenty of new, behind-the-scenes details and celebrity anecdotes. This is a truly fun romp."
— Booklist
"It's medicine we can all use right now."
— People