You are here
Back to top
People of the Songtrail: A Novel of North America's Forgotten Past (Hardcover)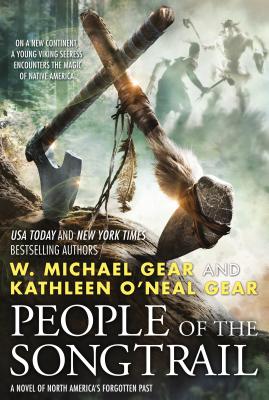 This book is unavailable to order.
Description
---
From New York Times and USA Today bestselling authors Kathleen O'Neal Gear and W. Michael Gear comes an epic story of the first contact between Native Americans and Vikings.
On the shores of what is now northeastern Canada, a small group of intrepid settlers have landed, seeking freedom to worship and prosper far from the religious strife and political upheaval that plague a war-ridden Europe . . .
500 years before Columbus set sail.
While it has long been known that Viking ships explored the American coast, recent archaeological evidence suggests a far more vast and permanent settlement. It is from this evidence that archaeologists and early American history experts Kathy and Michael Gear weave their extraordinary tale.
Based on recent archaeological discoveries, People of the Songtrail is the saga of the first European settlers to land on the shores of the new world. It is a story, like so many in America's history, of the swift and violent clash of cultures, and extraordinary men and women on both sides who are brave enough to work for the fragile hope of peace. A story that has remained untold, until now.
"It's a very satisfying reading experience – a winning entry in this venerable series." - Open Letters Monthly
About the Author
---
W. Michael Gear, who holds a master's degree in archaeology, has worked as a professional archaeologist since 1978. He is currently principal investigator for Wind River Archaeological Consultants. With his wife, Kathleen O'Neal Gear, he has written the international and USA Today bestselling North America's Forgotten Past Series (including People of the Songtrail, People of the Morning Star, Sun Born, Moon Hunt, among others); and Anasazi Mystery Series.

Kathleen O'Neal Gear is a former state historian and archaeologist for Wyoming, Kansas, and Nebraska for the U.S. Department of the Interior. She has twice received the federal government's Special Achievement Award for "outstanding management" of our nation's cultural heritage. With her husband, W. Michael Gear, she is the co-author of many books, including the North America's Forgotten Past series (People of the Songtrail, People of the Morning Star, Sun Born, Moon Hunt, among others); and the Anasazi Mysteries series. She and her husband live in Thermopolis, WY.
Praise For…
---
"Propelled by the Gears' spry storytelling, this sturdy epic skillfully navigates the ancient swamplands of Louisiana, with their lapping brown waters, hanging vines and brooding skies." - Publishers Weekly