You are here
Back to top
Fallout 76: Prima Official Platinum Edition Guide (Hardcover)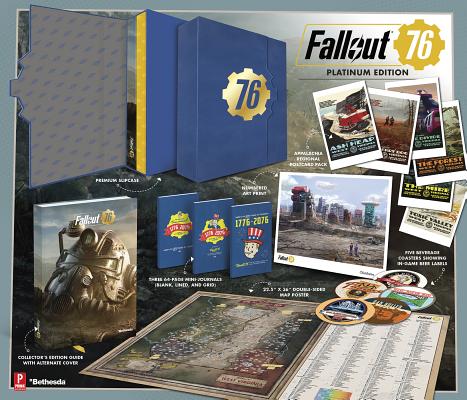 This book is unavailable to order.
Description
---
Immerse yourself in the largest Fallout environment ever with the Platinum Edition guide to post-nuclear West Virginia! (Fallout 76 video game not included.)
Collector's Case: Safely hold your collectibles in a premium slipcase with foil-accented logo and magnetic closure.
Numbered Art Print: Original Fallout 76 concept art printed on 7.75" x 9.75" high-quality paper.
Three Mini-Journals: Reach for one of these pocket-sized notebooks the next time you need to scribble down a nuclear code! Each journal features Tricentennial-themed cover art and 64 pages of either blank, lined, or grid paper.
Appalachia Regional Postcard Pack: From the wooded slopes of the forests of Appalachia to the noxious crimson expanses of the Cranberry Bog, commemorate your travels through West Virginia with this custom six-postcard pack featuring art from each game region.
Local Brew Beverage Coasters: Labels from all five in-game varieties of beer adorn these durable coasters.
Premium Double-sided Map Poster: Over 850 primary and secondary locations are labeled on this 22.5" x 36" poster map. Wander with purpose using this comprehensive overview of important locales and the collectibles they hold!
Collector's Edition Guide with Alternate Cover and Treatments: This version of the hardcover guide, with alternate cover art and endsheets, plus a ribbon bookmark and matching endbands, can only be found inside the Platinum Edition.
Inside the Guide: Detailed training, breakdowns of every quest, guides to building and crafting, tips for teaming up, and a meticulous world atlas. It's the ultimate reference for Fallout 76!
Digital Bonus: Unlock your digital version of this guide with the free code included inside. With interactive maps and a new checklist tool, it's an essential digital companion to your adventures!


* Fallout 76 video game not included.
About the Author
---
Originally hailing from the United Kingdom, David Hodgson left his role as a writer of numerous British video game magazines (including Mean Machines, Computer & Video Games, and the Official Nintendo and Sega Saturn magazines) and a bohemian lifestyle on a dry-docked German fishing trawler to work on the infamous GameFan magazine in 1996. David helped to launch the fledgling GameFan Books and helped form Gamers' Republic in 1998, authoring many strategy guides for Millennium Publications, including The Official Metal Gear Solid Mission Handbook. After launching the wildly unsuccessful Incite Video Gaming and Gamers.com, David found his calling, and began authoring guides for Prima Games. He has written more than 30 Prima strategy guides, including The Godfather: The Game, Knights of the Old Republic, Perfect Dark Zero, Half-Life 2, and Burnout Revenge. He lives in the Pacific Northwest with his wife, Melanie, and an eight-foot statue of the great Cthulhu.

Garitt Rocha is a freelance writer at Prima Games. He is the coauthor of Mario Kart 8 Deluxe, Playing with Power: Nintendo NES Classics, and Hyrule Warriors Legends Collector's Edition: Prima Official Guide.