You are here
Back to top
The Year of Magical Thinking: A Play by Joan Didion Based on Her Memoir (Vintage International) (Paperback)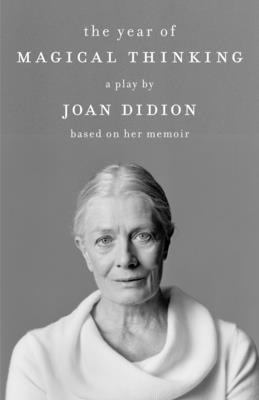 $13.95

Usually Ships in 1-5 Days
Description
---
In this dramatic adaptation of her award-winning, bestselling memoir, Joan Didion transforms the story of the sudden and unexpected loss of her husband and their only daughter into a stunning and powerful one-woman play.
"This happened on December 30, 2003. That may seem a while ago but it won't when it happens to you . . ." 

Michiko Kakutani in The New York Times called the memoir that was the basis for the play, "an indelible portrait of loss and grief . . . a haunting portrait of a four-decade-long marriage."
The first theatrical production of The Year of Magical Thinking opened at the Booth Theatre on March 29, 2007, starring Vanessa Redgrave and directed by David Hare.
About the Author
---
JOAN DIDION is the author of five novels, ten books of nonfiction, and a play. Her book The Year of Magical Thinking won the National Book Award in 2005. She lives in New York.


Praise For…
---
"Her book is thrilling . . . a living, sharp, memorable book . . . An exact, candid, and penetrating account of personal terror and bereavement . . . sometimes quite funny because it dares to tell the truth."
–Robert Pinsky, The New York Times Book Review (cover)


"An act of consummate literary bravery, a writer known for her clarity allowing us to watch her mind as it becomes clouded with grief . . . It also skips backward in time [to] call up a shimmering portrait of her unique marriage . . . To make her grief real, Didion shows us what she has lost."
–Lev Grossman, Time


"I can't think of a book we need more than hers . . . I can't imagine dying without this book."
-John Leonard, New York Review of Books


"Achingly beautiful . . . We have come to admire and love Didion for her preternatural poise, unrivaled eye for absurdity, and Orwellian distaste for cant. It is thus a difficult, moving, and extraordinarily poignant experience to watch her direct such scrutiny inward."
–Gideon Lewis-Kraus, Los Angeles Times


"Stunning candor and piercing details . . . An indelible portrait of loss and grief . . . [A] haunting portrait of a four-decade-long marriage."
–Michiko Kakutani, The New York Times