You are here
Back to top
Sketches from a Hunter's Album: The Complete Edition (Paperback)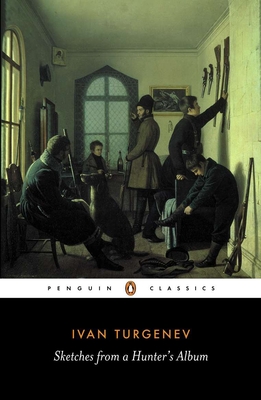 $17.00

Usually Ships in 1-5 Days
Description
---
Turgenev's first major prose work is a series of twenty-five Sketches: the observations and anecdotes of the author during his travels through Russia satisfying his passion for hunting. His album is filled with moving insights into the lives of those he encounters - peasants and landowners, doctors and bailiffs, neglected wives and bereft mothers - each providing a glimpse of love, tragedy, courage and loss, and anticipating Turgenev's great later works such as First Love and Fathers and Sons. His depiction of the cruelty and arrogance of the ruling classes was considered subversive and led to his arrest and confinement to his estate, but these sketches opened the minds of contemporary readers to the plight of the peasantry and were even said to have led Tsar Alexander II to abolish serfdom.

For more than seventy years, Penguin has been the leading publisher of classic literature in the English-speaking world. With more than 1,700 titles, Penguin Classics represents a global bookshelf of the best works throughout history and across genres and disciplines. Readers trust the series to provide authoritative texts enhanced by introductions and notes by distinguished scholars and contemporary authors, as well as up-to-date translations by award-winning translators.
About the Author
---
Ivan Sergeyevich Turgenev was born in 1818 in the Province of Orel, and suffered during his childhood from a tyrannical mother. After the family had moved to Moscow in 1827 he entered Petersburg University where he studied philosophy. When he was nineteen he published his first poems and, convinced that Europe contained the source of real knowledge, went to the University of Berlin. After two years he returned to Russia and took his degree at the University of Moscow. In 1843 he fell in love with Pauline Garcia-Viardot, a young Spanish singer, who influenced the rest of his life; he followed her on her singing tours in Europe and spent long periods in the French house of herself and her husband, both of whom accepted him as a family friend. He sent his daughter by a sempstress to be brought up among the Viardot children. After 1856 he lived mostly abroad, and he became the first Russian writer to gain a wide reputation in Europe; he was a well-known figure in Parisian literary circles, where his friends included Flaubert and the Goncourt brothers, and an honorary degree was conferred on him at Oxford. His series of six novels reflect a period of Russian life from 1830s to the 1870s: they are Rudin (1855), A House of Gentlefolk (1858), On the Eve (1859; a Penguin Classic), Fathers and Sons (1861), Smoke (1867) and Virgin Soil (1876). He also wrote plays, which include the comedy A Month in the Country; short stories and Sketches from a Hunter's Album (a Penguin Classic); and literary essays and memoirs. He died in Paris in 1883 after being ill for a year, and was buried in Russia.