You are here
Back to top
Shatter Me Series Box Set: Shatter Me, Unravel Me, Ignite Me (Paperback)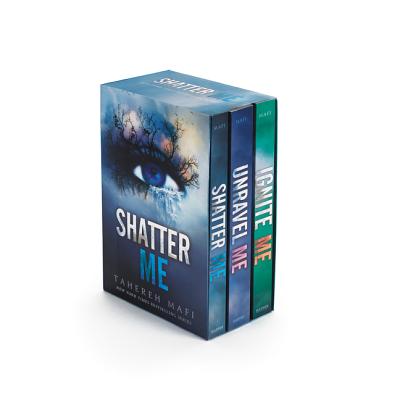 $29.97
Email or call for price
Description
---
My touch is power.
The first three novels in Tahereh Mafi's New York Times bestselling Shatter Me series(Shatter Me, Unravel Me, and Ignite Me) are available together for the first time in this box set collection!
No one knows why Juliette's touch is fatal, but The Reestablishment has plans for her. Plans to use her as a weapon. But Juliette has plans of her own. After a lifetime without freedom, she's finally discovering a strength to fight for herself—and for a future with the one boy she thought she'd lost forever.
The Shatter Me series, which New York Times bestselling author Ransom Riggs called "a thrilling, high-stakes saga of self-discovery and forbidden love," is perfect for fans who crave action-packed novels like Veronica Roth's Divergent, Suzanne Collins's The Hunger Games, and Marie Lu's Legend.
And don't miss Defy Me, the shocking fifth book in the Shatter Me series!
About the Author
---
Tahereh Mafi is the New York Times and USA Today bestselling author of A Very Large Expanse of Sea, the Shatter Me series, Furthermore, and Whichwood. She can usually be found overcaffeinated and stuck in a book. You can find her online just about anywhere @TaherehMafi or on her website, www.taherehbooks.com.
Praise For…
---
PRAISE FOR THE SHATTER ME SERIES: "Tahereh Mafi's bold, inventive prose crackles with raw emotion. A thrilling, high-stakes saga of self-discovery and forbidden love, the Shatter Me series is a must-read for fans of dystopian young adult literature—or any literature!"
— Ransom Riggs, #1 New York Times bestselling author of Miss Peregrine's Home for Peculiar Children

"Dangerous, sexy, romantic, and intense. I dare you to stop reading."
— Kami Garcia, #1 New York Times bestselling coauthor of the Beautiful Creatures series

"Addictive, intense, and oozing with romance. I'm envious. I couldn't put it down."
— Lauren Kate, #1 New York Times bestselling author of the Fallen series

"Mafi unveils the tragic effects of war; these revelations, along with the high-octane battles and a narrative that traces the growing empowerment of her characters, bring this trilogy to a strong and blazing finish."
— Shelf Awareness on Ignite Me

"Ignite Me really does ignite all five of your senses. It blows your mind and makes you hungry for more of its amazing characters. It will completely blow your expectations; Tahereh Mafi truly knows how to deliver!"
— Teenreads.com on Ignite Me

"Rip-roaring adventure and steamy romance scenes, with a relationship teens will root for as much as they did for Bella and Edward. Inventive touches propel the story, such as strikeouts that reveal Juliette's inner thoughts. The final chapters leave Juliette, Adam, and Warner well poised for round two."
— Booklist on Shatter Me

"Mafi combines a psychological opener with an action-adventure denouement in her YA debut. This is a gripping read from an author who's not afraid to take risks."
— Publishers Weekly on Shatter Me

"Fast-paced action scenes convey imminent danger vividly....Part cautionary tale, part juicy love story, this will appeal to action and adventure fans."
— Kirkus Reviews

"The story and character arcs are glorious and well thought out. Tahereh Mafi has proved herself a masterful plotter and storyteller."
— New York Journal of Books

"Fans of Cashore's Fire, Oliver's Delirium, and, yes, Twilight will find this addictive."
— Bulletin of the Center for Children's Books on Shatter Me

"Teens will feel satisfied yet wait impatiently for more."
— School Library Journal on Shatter Me

"Ready for round two? The war between the Reestablishment and its citizens is ramping up in this sequel to the steamy dystopia Shatter Me. Fans will be thrilled with the secrets unveiled in this one."
— Booklist on Unravel Me

"It's time for war in the edge-of-your seat sequel to Tahereh Mafi's dystopian Shatter Me. Mafi creates characters that readers feel invested in. The lyricism of the first book carries over in this installment."
— Shelf Awareness on Unravel Me

"Compelling and bittersweet."
— Bulletin of the Center for Children's Books on Unravel Me

"Juliette's experiences will keep readers on the edge of their seats, and the romantic tug-of-war will entrance them."
— School Library Journal on Unravel Me